~Picture 1~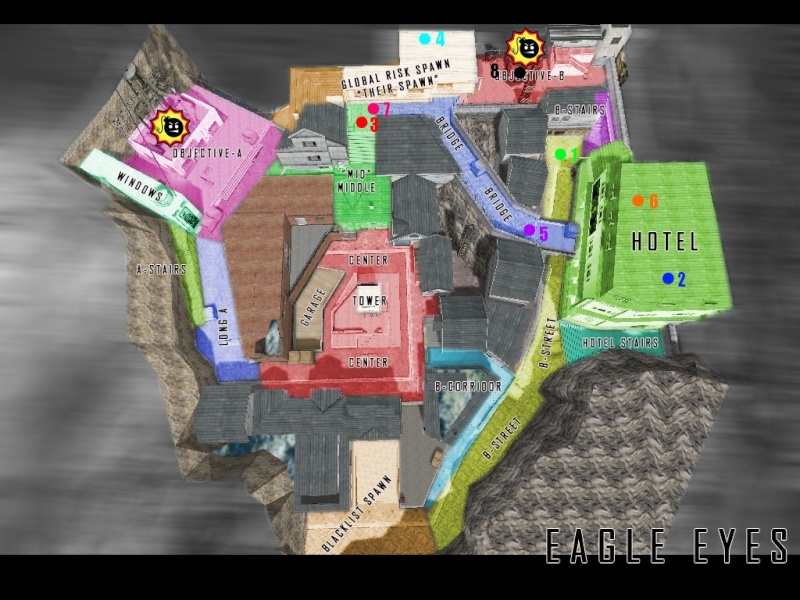 ~Picture 2~
~Picture 3~
Picture 1: Just the positions
Picture 2: Area's to be watching
Picture 3: A-Roll over
Golden Rule: Don't get picked off/Move it all together at once.
Main Obj: Make it has havoc as possible and defuse the bomb.
The main idea of this. To make it very difficult on the other team to maintain of each other. So I pretty much showed it to you there.
Pos 1: Focus on B-Connect. (Sniper/Rifle)
Pos 2: Focus on ambushing people coming in. (Rifle only)
Pos 3: Watch mid, alert when heard at A. (Rifle only)
Pos 4: Watch our base, so 3 doesn't get flanked (Rifle suggested)
Pos 5: Just watch people go in hotel. (Sniper/Rifle)
Pos 6: Help 1/2 when needed. (Rifle suggested)
Pos 7: Follow as same as 3. (Sniper/Rifle)
Pos 8: Watch tower, and assist where is needed. (Sniper/Rifle)
~~~THE SHIFT~~~
You can see in picture 2. Mainly you wait for everybody to get into position then you attack all at once. The numbers will make the difference in this one. 90% of the time if we go in single, by single we will all lose since there's so much pressure on 1 group. If we all go in. It will make havoc and chaos people will get shot. They will lose order, and we will more than likely have a few numbers ahead. Multi windows will be so blown up. Our spawn is gonna light up A obj. The tricky part. The people in hotel/Long-B are gonna have to move EXTREMELY FAST. That's the challenge. They gotta move quick into position before they send scouts out to mid/spawn.
~~~If they rush B/Mid-Camp~~~
Then we got it covered. We won't move till confirmation of A. If they camp mid they will check B, and they will get lit up like a match in a forest. Then they will be trapped into A-Site only. We want there plant on A. We are forcing the plant on A-Site. That's the main idea. So we know where it's gonna be planted.
Team work will make this work. People can't hide if they do there teammates are gone, and we'll have extra living to find them and take them out. Takes lot's of stealth and agility. This is a trick play.
Questions/Comments/Concerns Post below. I can take criticism, but make it constructive.